In the past few days, the Brazil team has accomplished a great deal!
We were able to clear out the church so that construction could start, and we painted all of the windows and cleared the yard of trash and weeds.
We have also done four home visits. The people were so happy, and one woman's son even said he wants to believe in Jesus from this day on. What a wonderful thing!
We brought donations from CrossWay to a needy neighborhood, and the women and children were very grateful and happy to see all of the clothes and school supplies.
We have seen lots of animals walking the streets: cows, cats, horses, and lots of dogs. Nick even found a lizard. We are grateful to God that no one has gotten hurt with all of the construction, and that the team is staying strong! We are indeed exhausted every time we get back to the hotel, but the Lord gives us energy through the day!
We were also able to visit an all-women's prison, where Dan M told the story of the prodigal son. Dan explained how the prodigal son's father still loved him, and our heavenly Father still loves us although we have sinned against him. The women in the prison were so responsive to the message. They let us sing and pray for them. They even sang a song for us. It was extremely sad to see all of these very young girls in prison, but I am so glad that the Lord opened their hearts to hear the word of the Lord and to know that God still loves them!
We also had a service at the police station – that is where Jeff preached. He did such a great job, and the people at the station really liked the sermon. Nelson served as Jeff's translator.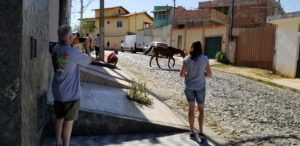 Today, the girls on the team are going to a nursing home, and the men are going to continue the work on the church.
Please pray:
-That the team will have lots of energy throughout each and every day.
-That the Lord will continue to protect us as we work.
Praises:
-We have a new brother in Christ: Marcus!